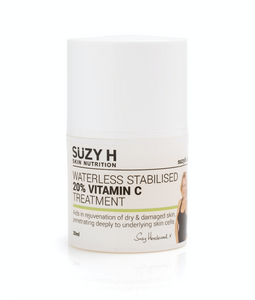 20% Stabilised Vitamin C Treatment in Waterless base
WHAT IT DOES, WHAT IT CONTAINS & HOW IT WORKS
Suzy's Vitamin C 20% treatment is a clinical strength product that illuminates and brightens the skin, its great for pigmentation and aids in the repair of damaged and dry skin by penetrating deeply to supply Vitamin C to the underlying skin cells. It's a powerful exfoliator and mops up free radical damage from environmental aggressors.
WHEN TO USE
If you have not used Vitamin C treatments before, we recommend starting with our Skin Firming Vitalising C 10% Serum and then graduating to this product after a few months of use.
For all skin types and can be used daily in the AM, alone or under moisturizer. Do not use around the delicate eye area.