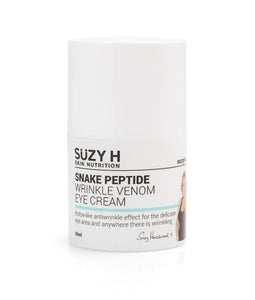 Suzy's Snake Peptide Wrinkle Venom Eye Cream is designed to help plump, firm and hydrate the delicate eye area.
Peptides are molecularly structured to penetrate down through the layers to where the degradation starts...
Use around the eye area, nasal labia folds, forehead wrinkles or anywhere you want firming and wrinkle reduction.
Can be used all over face, neck and décolletage.
Apply morning and/or night
All skin types
The active compound is based on a synthetic tripeptide that mimics the effect of the venom of the Temple Viper. The activity of snake peptide reduces the contraction frequency of muscle cells on the face, thereby decreasing the appearance of expression lines. In vivo testing showed an impressive reduction of over 50% in wrinkle size after 28 days.
dipeptide diaminobutyroyl benzylamide diacetate
Properties: Has been found in clinical studies to reduce the appearance of wrinkles and expression lines due to reduction of contraction frequency.