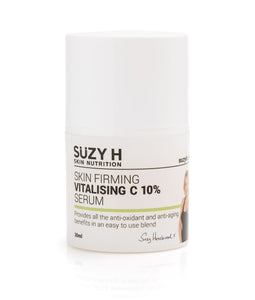 WHAT IT DOES, WHAT IT CONTAINS & HOW IT WORKS
Suzy's Vitamin C 10% treatment serum is a clinical strength product that illuminates and brightens the skin, its great for pigmentation and aids in the repair of damaged and dry skin by penetrating deeply to supply Vitamin C to the underlying skin cells. It's a powerful exfoliator and mops up free radical damage from environmental aggressors.
This is a Water free, active form of vitamin C, stabilised in a blend of emollients & silicones, contains 10% pure l-ascorbic acid providing all the anti-oxidant and anti-aging benefits in an easy to use blend.
WHEN TO USE
For all skin types and can be used daily in the AM, alone or under moisturizer. Do not use around the delicate eye area.