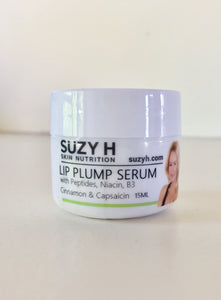 Lip Plump - 15ml balm
A lip plumper for immediate satisfaction and long-term results and you can feel it working. The tingling sensation tells you it's working and lips appear full and pouty from your very first application and plumper overall, overtime. It glides on as a clear gloss with light reflecting shine and supreme moisture.
A revolutionary lip plumping formula that also hydrates and nourishes,:
Collagen Booster: Increases collagen to plump lips up to 40% fuller, while increasing lip moisture up to 60% long-term.
L-Arginine and Niacin to increase blood supply to the lips
Paraben-free
Ingredients: Jojoba oil, Coconut oil, Beeswax, Shea Butter, Candelialia wax, Niacin, Matrixyl-synthe-6, L-Arginine, Lecithin, Menthol, Cinnamon bark oil, Vitamin E, Capsicum annum resin extract, Peppermint oil