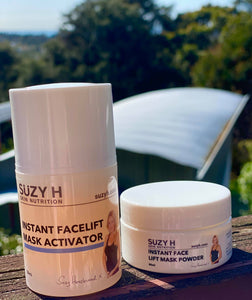 50ml of liquid activator & 50ml of powder
The Suzy H instant lift kit delivers effective and immediate age correcting and lifting results to the face, neck and décolletage area, with just one 30 minute treatment.
This powerful combination of tightening and nourishing allows it to lift, tone and firm the skin from the neck up with immediate results that include a noticeable reduction in the appearance of fine lines, wrinkles, dark spots and sagging skin.
Add two part activator gel to one part powder mix then apply to clean dry skin using brush or fingers (Refrain from moving face whilst mask is tightening)
Leave on for 30 mins then rinse off with warm damp face cloth, apply your favourite serum or moisturiser afterwards.
Suitable for all skin types
How to apply the mask:
Mix one scoop of activator gel to one scoop of powder blend to an even paste Apply to clean dry skin using fingertips or brush Relax for 20-30 minutes then wash off with damp warm facecloth Tip : I use a thin layer of my coconut oil to help remove the mask.
INSTANT FACE LIFT MASK ACTIVATOR GEL
Ingredients: Purifed Water, Fucus Vesiculosus Extract, Niacinamide, Propylene Glycol, Lactobacillus/Papaya Fruit Ferment Extract, Hexylene Glycol, Glycerol, Panthenol, Dipeptide Diaminobutroyl Benzylamide Diacetate, Carbomer, Xanthan Gum. Caprylyl Glycol, Hyaluronic Acid, Urea, Diazolidinyl Urea, Phenoxyethanol, Ethylhexylglycerin, Potassium Sorbet, Triethanolamine.
INSTANT FACE LIFT MASK POWDER
Ingredients: Albumen, Zea Mays (Corn) starch, Silica, Collagen, Dipalmitoyl Hydroxyproline, Allantoin, Citric Acid.