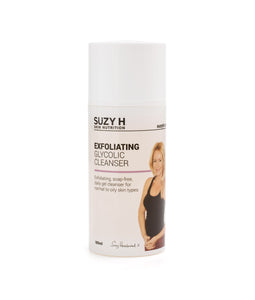 Suzy's Non-Foaming, Exfoliating, Soap Free Cleansing Gel is a daily cleanser that sloughs away dead skin cells to help  promote younger looking skin.
Great for all skin types especially acne- prone skin and open pores.
Used daily this cleanser helps all  treatments and moisturisers absorb more efficiently!
Massage onto damp skin morning or night rinse off with warm water.
Note: Do not use around the delicate eye area, use every second day if sensitive, use sunblock when using glycolic acid.
Normal/ Combination skin types.