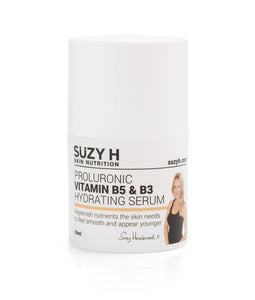 Proluronic Vitamin B5 & B3 Hydrating Serum
WHAT IT DOES, WHAT IT CONTAINS & HOW IT WORKS
Suzy's B5 B3 serum is enriched with vitamin B3 (Niacinimide) and B5, known to help with tissue repair, it replenishes nutrients the skin needs to feel smooth and appear younger. This moisture-enhancing gel contains hyaluronic acid, the body's natural hydrator, to bind moisture to the skin.
WHEN TO USE
Recommended for use with Vitamin C treatments
Ideal for all skin types
Can be used on it's own anytime during the day when skin is feeling dehydrated.
Use on its own or add a dash of our Vitamin C and B12 powder to the serum for a bonus anti aging treatment.