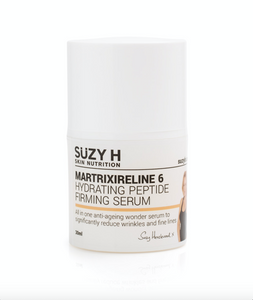 Suzy's WONDER serum/ cream is a 'one stop shop'. It contains amazing peptides Matrixyl synthe- 6, Argireline, Hyaluronic acid, Sea buckthorn oil, Squaline (derived from olives) and orange oil.
A combination of powerful Anti ageing ingredients that help to plump , firm and hydrate the skin , significantly reducing the appearance of fine lines and wrinkles.
Peptides penetrate down through the layers of skin to act on the 6 major constituents of the skin matrix... hydrating and toning the skin, helping to keep it feeling smooth and lifted.
Argireline helps to reduce wrinkles.
This winning formulation is a must for those serious about anti ageing!
Use on its own or for greater results add one of your favourite treatments  beforehand.
Can be patted around the orbital bone of the eye area.
All skin types, especially lined dehydrated ageing skin.